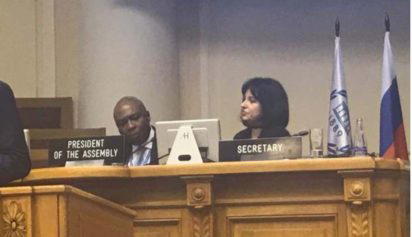 The President of the Nigerian Senate, Dr Bukola Saraki on Monday, presided over a session at the ongoing 137th Inter Parliamentary Union (IPU) in St. Petersburg, Russia.

The post Russia: Saraki presides over session at IPU appeared first on Vanguard News....
blog comments powered by

Disqus
Published By: Nigeria Lifestyle - Monday, 16 October, 2017
Older News
Photos: Super Eagles in training session Sports (Yesterday) - Nigeria's players take part in a training session at the Kaliningrad Stadium in Kaliningrad on June 15, 2018 during the Russia 2018 World Cup football tournament.The post Photos: Super Eagles...
'Don't Go To Russia', U.S. Warns Citizens Leadership (Yesterday) - LEADERSHIPThe U.S. has advised its citizens against travelling to Russia where the FIFA World Cup is currently taking place with 32 countries  participating, raising the threat level to 3. The...