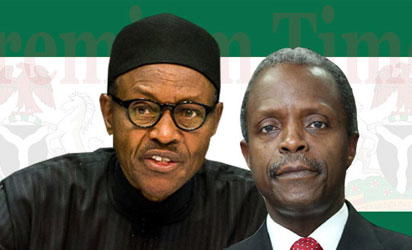 Niger Delta youths have lauded President Muhammadu Buhari for his empowerment programme for youths in the region, pledging their support for him  and Vice President Yemi Osinbajo in 2019.

The post Youths pledge support for Buhari, Osinbajo appeared first on Vanguard News....
blog comments powered by

Disqus
Published By: Nigeria Lifestyle - Wednesday, 15 November
Older News
Youths should feel slighted by Buhari's commonwealth statements – Adamu Garba Nigeria Lifestyle (3 days ago) - Adamu Garba, a presidential aspirant in the 2019 general elections, has said that President Buhari has continued to fail at his primary assignment of being president which is to be...
Mace theft: Osinbajo, Ekweremadu in closed door at Aso Rock News (3 days ago) - Juliana Taiwo-Obalonye, Abuja Vice President Yemi Osinbajo and the Deputy Senate President Ike Ekweremadu met behind closed at the the Presidential Villa, Abuja. The meeting came hours after some hoodlums,...
Most Nigerian Youths Are Illiterates, Lazy, Buhari Tells Commonwealth  Blank (3 days ago) - President Muhammadu Buhari says many Nigerian youths just want to sit down and do nothing, banking on the notion that Nigerian is an oil-rich nation. Speaking at the Commonwealth Business Forum…...
2019: Ebonyi Community Endorses Buhari | Independent ... - Independent Newspapers Limited Ebonyi State News (3 days ago) - Independent Newspapers Limited2019: Ebonyi Community Endorses Buhari | Independent ...Independent Newspapers LimitedElders, youths and women of Echara community, one of the largest communities in Ikwo Local Government Area of Ebonyi...