By Linda Pressly
BBC News, Sicily
image caption
Families of the fishermen in Mazara del Vallo have taken their campaign to Rome but complain of a resounding silence
For the past two months, 18 fishermen from Sicily detained at sea by the Libyan Coast Guard have been held in a jail close to the city of Benghazi. They were fishing for red prawns in Mediterranean waters over which Libya claims sovereignty.
Complicating their potential release is a Libyan demand for a prisoner swap: the Sicilians in exchange for four Libyans convicted by the Italian courts of human trafficking and murder.
'Red prawn war'
In the capitals of Europe, red prawns can retail at more than €50 (£45) a kilo. Connoisseurs eat them raw.
For decades, fishermen from the Sicilian port of Mazara del Vallo have been catching them off the coast of Libya at depths of more than 600m (2,000ft).
It is perilous work and Domenico Asaro has had three altercations with Libyan authorities that have cost him and his family dear.
The first was in March 1996.
"Around 7am, we saw a military vessel coming towards us very fast. When we tried to escape, they opened fire. It was a race for our lives," he remembers. "After four or five hours of chasing and shooting at us, a bullet almost hit me."
He and his crew were sentenced to two years in prison before being released after six months for good behaviour.
image caption
Domenico Asaro's three run-ins with Libyan authorities have hit his family hard
In 2005, Muammar Gaddafi, who was Libya's authoritarian leader at the time, formalised his control over parts of the Mediterranean by unilaterally extending Libya's territorial waters from 12 to 74 miles offshore, a move that was never accepted by the European Union.
Domenico Asaro had two more run-ins with the Libyans:
In 2010, he escaped back to Mazara with 96 bullet holes in his boatIn 2012, he spent another 52 days in jail in Libya; the whole episode cost him around €200,000 after he paid a fine and replaced the equipment stripped from his boat.
But it was that 1996 experience that marked him forever - because his boat was lost.
"My father said - why couldn't they keep you, and give us back the boat? These vessels are like our children," he told the BBC.
"My father suffered; he was ashamed to go to the port. Following a very deep depression, he died. And still today I feel guilty that his death was my fault."
Libya past and present
An estimated 50 Italian fishing boats have been seized at sea by Libya in the last 25 years.
In the past, negotiations to free captured fishermen often happened informally between Mazara del Vallo and the authorities in Benghazi.
When Silvio Berlusconi was Italy's prime minister, it was reported he would pick up the phone to Muammar Gaddafi and make a deal.
But Gaddafi was deposed and killed in 2011. And now, after nearly a decade of armed conflict, Libya is no longer one political entity.
It is split between two power bases.
In the west the UN-backed Government of National Accord (GNA) rules from Tripoli. In the east, from Benghazi, the self-proclaimed Libyan National Army (LNA) has control under the military command of Khalifa Haftar.
Read more on Libya and human trafficking in the Med:
'A wartime mentality'
It is Gen Haftar's forces who are holding the 18 fishermen.
Italy once had good relations with the LNA, but now the government is aligned with Gen Haftar's adversaries in Tripoli. And for Francesco Mezzapelle, director of the Prima Pagina media network in Mazara del Vallo, this rankles.
"In my opinion, this looks like Haftar's revenge because the Italian government seems to support the other side - Tripoli," he says.
The foreign ministry in Rome did not want to comment to the BBC about the predicament of the fishermen, but Francesco Mezzapelle says there have been negotiations between the Italians and the LNA.
"Italian intelligence had contact with their Libyan counterparts to see if a payment would free the fishermen. But this time it isn't just an economic matter, it's political."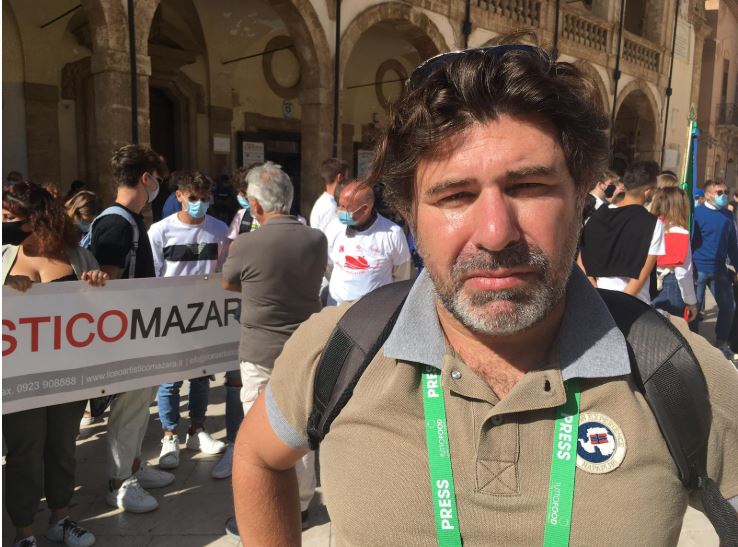 BBC
Haftar wants recognition. And he has a wartime mentality: you have prisoners, I have prisoners - we can exchange
Who are the Libyan prisoners?
In 2015, more than a million refugees and migrants made their way to Europe.
In August, 363 people boarded an old fishing vessel in Libya hoping to arrive in Italy; 49 of them would never set foot on Italian soil.
image copyrightMarina Militare
They died a horrendous death packed into the hold of the boat in what the prosecutor in the Sicilian city of Catania called "one of the most brutal episodes ever recorded".
The court convicted four young aspiring Libyan footballers and three others of using violence to prevent people from coming up from the hold on to the overcrowded deck. They were sentenced to 30 years in prison.
"The interviews we did were very detailed. They all had the same things in common about the way the crossing was organised and how violence unfolded during the trip," says Alessandro Drago, one of the police officers who interviewed the surviving migrants after they were rescued at sea.
image caption
Alaa Faraj was one of the four Libyan footballers sentenced to 30 years in jail
"They told us they tried to climb up for air: the dead bodies in the hold made the air unbreathable. And they were beaten violently because the traffickers wanted them to stay below deck."
All four Libyans are appealing against their convictions.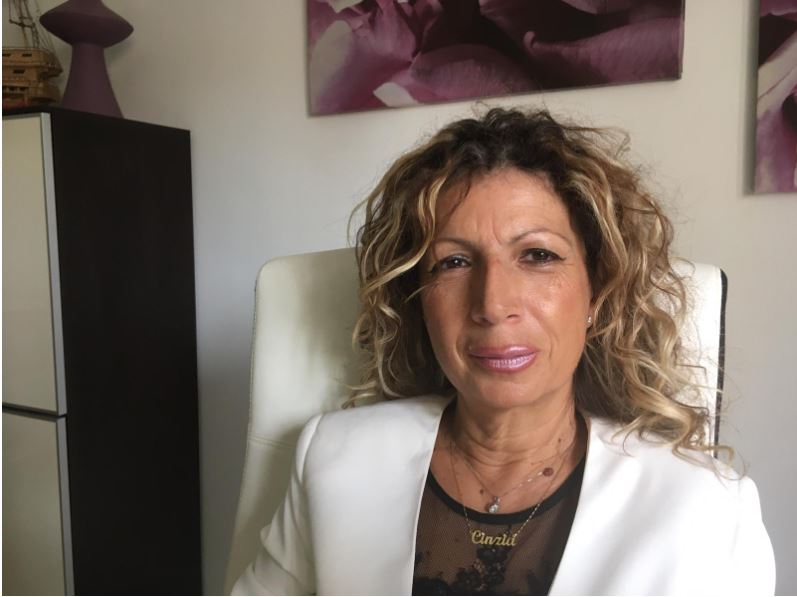 BBC
My client was identified as a person giving out water on the boat, so that made him part of the crew - so now he's serving 30 years for giving out water
"They had no weapons and no knowledge of navigation, they were just passengers," claims Cinzia Peccoraro, lawyer for one of the young men, Alaa Faraj.
She does not believe the traffickers were on board the boat, or that it had a crew as such.
And she does not want the Libyans' case to be linked to the men incarcerated near Benghazi.
"The 18 fishermen have nothing to do with my client, Alaa Faraj. He wants to demonstrate his innocence here, under the Italian system."
A town holds its breath
There are regular demonstrations in Mazara del Vallo demanding freedom for the fishermen.
The families and their supporters have taken their banners to Rome too, but so far there has been a resounding silence.
Every day is torture for Marika Calandrino, who waits for news of her 32-year-old husband, Giacomo Giacalone, one of the 18 languishing in a Libyan jail.
image caption
Marika Calandrino (L) waits with her daughter for her husband to return home
"I imagine him silent and very patient, waiting and hoping. I don't want my husband to feel abandoned," she says.
She tries to distract herself with the couple's baby daughter, Gaia.
"I've only found strength by looking into her eyes. My heart is crying, but I have to fight."